The following letter is written by a sixteen year old Christian man, who was a healthy, vibrant, articulate,
athletic, believer in Christ; raised in a godly Christian home and who recently recommitted via water baptism in Christ. His name is Jeremiah Thomas. Then his life suddenly changed in a dramatic, seemingly tragic way . . .
I first read about Jeremiah when my co-author, Anne Kisley of
We began praying for him at our Saturday night prayer meetings, and at church. We plead and wept and interceded for him and his family. People on Facebook formed
He is the son of
"
Amazing! And his fervent desire is to see abortion ended in the State of Texas: still, even when most people would focus on their own need and deadly dilemma of cancer, Jeremiah is undeterred, prayerful, and reaching out to governors in
For the video version of this letter, read by Jeremiah himself, go
There are many ways to be brave in this world.
Sometimes bravery involves laying down your life for something bigger than yourself or for someone else.
Sometimes bravery involves giving up everything you have ever known, or everyone you have ever loved, or everything you've ever wanted, for the sake of something greater.
One thing you should know about my family. We are really big on sports. Both the boys and girls. The football and volleyball seasons are huge for us. I am the youngest of the guys in the family. So naturally growing up meant I got destroyed playing backyard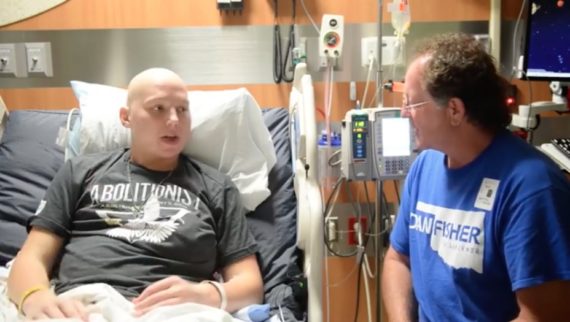 "This day I call the heavens and the earth as witnesses against you that I have set before you life and death, blessings and curses. Now choose life, so that you and your children may live" (

DEUT 30:19

).

So
It is our generation's duty to rise up and abolish abortion
True rebellion is going against the flow of what everybody else is doing...
June 24, 2018
But they must be. We can do anything by God's grace once we have prayed, but we can do nothing until we have prayed.
Saints - let's honor this heart cry from our beloved brother Jeremiah, and pray. Let us also continue to pray for Jeremiah and his family and if GOD wills, a profound and inexplicable, and supernatural miracle of healing for this brave lad!
And then do what God commands and seek out the life of the innocents:
37 Yea, they sacrificed their sons and their daughters unto devils,
38 And shed innocent blood, even the blood of their sons and of their daughters, whom they sacrificed unto the idols of Canaan: and the land was polluted with blood.
"The Painful Gift" - Very Powerful Message About Jeremiah Thomas
UPDATE 6/27/18
GLORY TO GOD!!! Whether this means a temporary halt to his journey Home or a lengthier temporary halt (a full life time worth!) Jeremiah's ulcerated cancer is healing, white blood cell count is up, no sign of fever. His overall strength is increasing!
THANK YOU LORD FOR HEARING THE PRAYERS OF YOUR CHILDREN!! LET'S PRESS ON SAINTS, CONTINUING TO PRAY FOR OUR BELOVED LITTLE (BIG IN FAITH) BROTHER, Jeremiah Thomas! Here is a
AND Let's continue to agree together in prayer with all the Thomas family against the legalized murder that's already taken millions of babies in this nation alone.
JEREMIAH STRONG
~ end of update
FINAL UPDATE
On SUNDAY, AUGUST 26th at 7:20 p.m. the son of pastor Rusty and Kendra Thomas, Jeremiah left this world under the curse of sin and was ushered in, by angelic escort into the presence of the LORD and is now residing in the glorious kingdom of heaven as a victorious son of the Father, unburdened by a cancer-consumed body, and awaiting the inheritance of his glorified body.I never met him, though I feel as though I have. I never really knew him, though in a way, I did. He came into my life by way of FB and youtube. I admired him from the first moment I read about him. I respect him to the highest degree. I will honor and continue the fight he waged against abortion - the murdering of innocents, in my prayers and in protest and in propelling the information about this legal murder of babies.
Jeremiah, you are a seed that the LORD planted and though your body has died, in its seeding, you will bear much fruit (JOHN 12:24-25). You freely gave your life away and because you dedicated your all to the LORD, I believe He will inspire people across this nation to take up the call, carry the torch and adamantly pray, fast and seek God for the ending of this atrocity in America. I KNOW your family is all the more resolved in their determination to see this done.
And if this satanic tactic is never overturned, I know that the LORD will bless the genuine effort and turn many a pregnant woman's heart to keep their babies and not kill them.
We will carry your story in our hearts and share it with others!
~ end of update
SUPPLEMENTAL UPDATE
An article from WORD FOUNDATIONS:
The Life and Death of Jeremiah Thomas: Worldview Christianity on Display
~ end of update
SUPPLEMENTAL UPDATE

- JAN. 4, 2019
and urge Governor Abbott to fulfill his promise to
END ABORTION
To: Governor Abbott
I join Jeremiah's wish to see abortion ended in Texas. Please keep your promise to pursue the complete outlaw of abortion this legislative session by making it an emergency item. I promise to stand with you to protect the preborn children of Texas.